One Candle
For Every Mood
Get ready to unwind with New York City's newest candle obsession.

These luxury scented candles are more than just a candle. They will help you unwind and boost your mood.

Great smelling. Long lasting. Crafted for every time of day.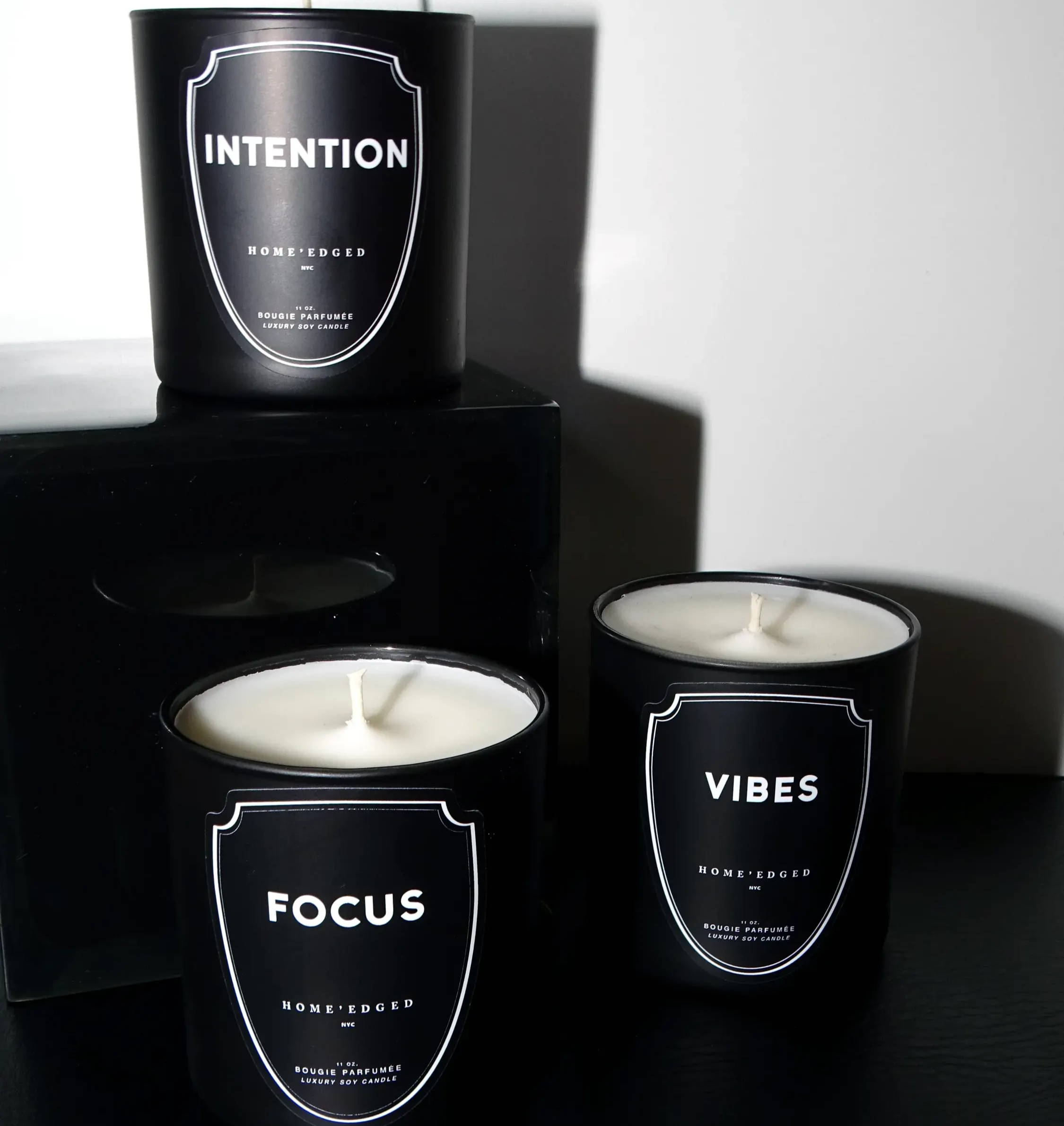 Our luxury candles are designed to look sleek and smell incredible to easily fit your current lifestyle. No super floral or aggressive smells. #GoodSmellsOnly Each of our 11 oz. luxury candles have been designed to help you enjoy 60-80 hour burn times. By ordering our 3-piece set, you're in for a long-lasting scent experience.
Our candles have been made using a premium and creamy looking soy wax to help you enjoy a great smelling and clean burning experience without all the smoke.
Crafting a quality candle that actually smells good is at our core. You won't find those overbearing generic scents here.

Every candle is formulated using the finest ingredients and offers an exquisite multi-layered scent journey to help you melt the stress away. There's nothing worse than a candle that only lasts a few days. That's why we've done everything possible to craft a candle that actually lasts.

Our luxury candles have been designed to burn for over 60+ hours so that you can enjoy a great candle experience light after light.

"Holy sh!t
This candle is
Unreal!

I'm OBSESSED."

Frequently Asked Questions
Where were these candles made?
Right here in the USA. Each of our candles have been designed in Manhattan (New York City) and produced here in the states. As a result, you can rest assured that your HOME'edged NYC candle is made up of the highest quality ingredients and meets US candle regulations.
How do you recommend maximizing my HOME'edged NYC candle?
Every customer has a precious connection with their HOME'edged NYC candle. They've been crafted to help you elevate your mind and mood for specific times of day. For example, our Intention candle is great for your morning meditations and early days. Our Focus candle is great to use in the background of those busy afternoons. Our Vibe candle is incredible to use during the evening when you can to chill out. Of course, you can mix and match according to whatever mood your in.
When will I receive my candles?
We typically ship our products out between Monday through Thursday to avoid our precious candles sitting in a overheated warehouse during transit. So, if your place an order on Friday, you're product will be sent out first thing Monday morning. Trust us, it's for the best.
What is included when I purchase a HOME'edged NYC Candle?
You're in for a treat. Each of our candles are placed inside of a luxurious drawstring sleeve to help preserve the scent during it's journey to you. They are then placed into a sleek square box that is wrapped with a silky satin ribbon which makes for a great display. Then, we use biodegradable packing peanuts (yes, you can wash these down the sink) to help protect your candles during transit and help keep waste from ending up in the landfills.
How do I care for my HOME'edged NYC candles
Before every light, make sure the candle wax is clear of any debris. Also, make sure that the candle wick is cut to roughly 1/4 of an inch. This helps ensure you an even burn and achieve the proper amount of flame during your candle burn. This will help you candle last longer. Please be sure to burn away from anything for your safety.